2nd August 2019 marks a new milestone for Armani Media Sdn Bhd.
As a media publication and events company, the fifth instalment of the 100 Most Influential Young Entrepreneurs Award (100MIYE) has seen the largest attendance of participants in the history of its making.
Hosted in the Grand Ballroom at the Kuala Lumpur Convention Centre (KLCC), the award night gala dinner has seen a total of 1,300 attendees, including 100 of the brightest and toughest entrepreneurs that Malaysia has to offer.
Not to mention, we have the special guest appearance of our beloved prime minister, Yang Amat Berhormat Tun Dr Mahathir, and our Minister of Entrepreneur Development, Yang Berhormat Datuk Seri Mohd Redzuan bin Md Yusof.
(Malaysian Prime Minister, YAB Tun Dr Mahathir recieving a token of appreciation courtesy of Photobook Malaysia, from Armani Media Sdn Bhd Managing Director, Dato' KK Chua, witnessed by Minister of Entrepreneur Development, YB Datuk Seri Mohd Redzuan Md Yusof)
(Tan Sri Dr Lim Wee Chai receiving his 100MIYE Lifetime Achievement Award)
It is such a rare occurrence that we are able to witness the industry most prominent names and personnel gathering in one place.
We have the special attendance of some of the wealthiest personalities and well-known celebrity entrepreneurs here in Malaysia:
Tan Sri Leong Hoy Kum, Group Managing Director of Mah Sing Group

Tan Sri Dr Lim Wee Chai, Executive Chairman of Top Glove Corporation Bhd

Dato' Wan Hashimi Albakri Bin Wan Ahmad Amin Jaffri, Acting Group Chief Executive Officer of Sime Darby Property Berhad

Puan Sri Datin Seri Dr Susan Cheah Seok Cheng, Director Of Sunway Group
Speaking of celebrities, we are also proud to announce that Dato' Sri Siti Nurhaliza is amongst the list of 100MIYE award recipients this year, accompanied by her husband and celebrity entrepreneur, Dato' Sri Khalid bin Mohamad Jiwa.
Also included in our list of award recipients are our national sports heroes, Datuk Nicole David and Dato' Lee Chong Wei, co-founder of Hatten Group, Dato' Edwin Tan, and founder of Ambition International Holdings Berhad, Dato' Dr Zack Lim.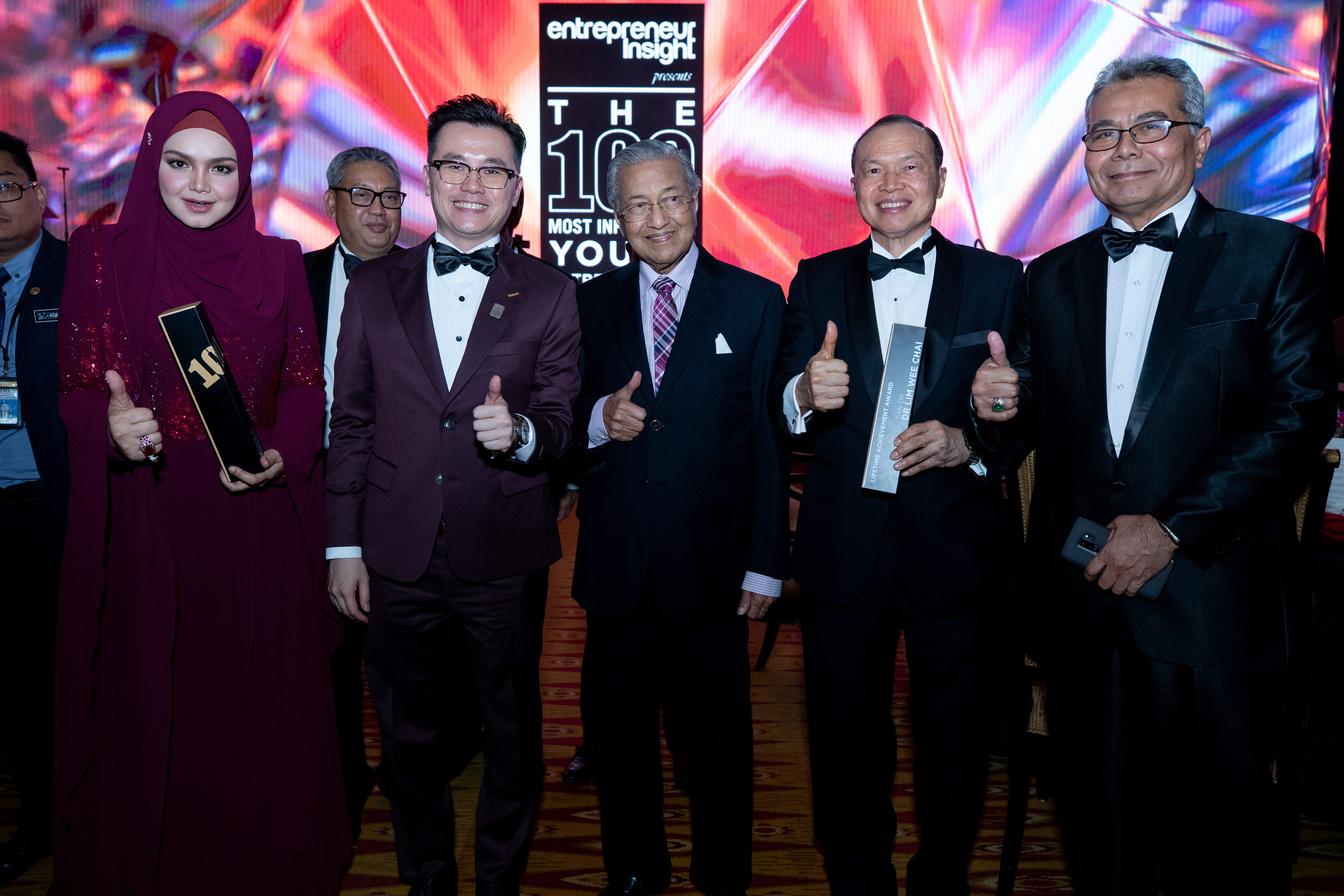 (From left: Dato' Sri Siti Nurhaliza, Dato'KK Chua, YAB Tun Dr Mahathir, Tan Sri Dr Lim Wee Chai, YB Datuk Seri Mohd Redzuan Md Yusof)
Congratulations to Tan Sri Dr Lim Wee Chai for receiving the 100MIYE Lifetime Achievement Award, which is a separate award that is given to individuals with at least 20 years of documented accomplishments in the field of entrepreneurship.
Tan Sri Dr Lim has also displayed a significant commitment towards the entrepreneurship community, by coaching and empowering other young entrepreneurs, both in the past and present.
Special thanks to our sponsors for 100MIYE 2019, for providing support to not just us, but towards the entire entrepreneurship community altogether.
Mah Sing Group Berhad
Corum Watches Malaysia Sdn. Bhd.
GINTELL (M) Sdn Bhd
PSE Advertising Sdn Bhd
Photobook Malaysia
Sharefer
Last but not least, we would like to congratulate all the winners for the 100MIYE award this year. Thank you all so much for your immense contribution to the national economy, and introducing countless job opportunities for the citizens of Malaysia.
I would like to remind our readers of the advice and wisdom bestowed by our beloved Prime Minister, Yang Amat Berhormat Tun Dr Mahathir, from his opening speech during the award night itself.
"To some, it may only be about profit, monetary gains and bottom lines. But more importantly, as we strive to create successful economic models through entrepreneurship, is that our entrepreneurs grow alongside noble values such as integrity and honesty," he said.
"Without these values, success becomes mechanical and lacking a soul to it," Tun M further elaborated.
Entrepreneur Insight would like to wish all of our award recipients good luck in your respective business ventures. We are looking forward to adding more value to your personal and professional lives through community events down the road.