MyeongDong Topokki CEO Vincent Lua has to-date 30 outlets spread out in various parts of Peninsular Malaysia since he started his fast-casual Korean street food restaurant chain in 2014. They are located in the Greater Klang Valley, Malacca, Penang, Johor, Terengganu, Kuantan, Ipoh and Seremban.
Of this, five are owned by this enterprising 34-year-old who pioneered this new food concept in Malaysia while the rest of the outlets belongs to his franchisees whose sizes range from 1,500 to 2,500 sq ft. Kiosk concept with 100 to 250 sq ft are also available.
While many of the MyeongDong Topokki outlets are housed in shopping centres such as One Utama Shopping Centre in Petaling Jaya , Palm Mall in Seremban and Sunway Putra Mall in Kuala Lumpur, there are also those located outside of the malls like its eateries in Terengganu and SS15, Subang Jaya in Selangor.
Vincent revealed plans are underway for MyeongDong Topokki to further expand its franchise restaurant chain, including into the states of Kedah and Kelantan. His move into the East Malaysian market is expected to take place next year.
Come this December, MyeongDong Topokki will be making his first overseas foray into Jakarta in view of Indonesia's huge market and strong demand.
To catch up with his expansion plans and future directions, Entrepreneur Insight met up with him recently at the latest MyeongDong Topokki located on ground floor of the integrated Bangi Gateway shopping complex in Bandar Baru Bangi, Selangor where its franchisee was doing a trial run-in prior to its opening of this latest that weekend.
Describing MyeongDong Topokki outlets as "a piece of art", Vincent said unlike the traditional restaurants with their four blank walls, they capture the vibrancy of MyeongDong, with its shopping outlets and casual eateries.
Even the door of its open kitchen concept is used to creatively depict MyeongDong Toppoki as a station being linked to its Bangi Gateway stop.
Featuring an open kitchen concept, where its customers can not only see the crew preparing their food, its outlets have been designed to encourage the millennials, its targeted group, to actively post and share their pictures eating here on their social media platforms. Thus, it is not surprising to see the millennials depicted on one side of its wall.
Vincent recalled, "When I was at Myeongdong Street in Seoul, South Korea five years ago, I was amazed by its colourful and attractive display of street food. I was very excited to try the street food here from stall to stall and they tasted awesome!
"Upon returning to Malaysia, I craved for them and went around the Klang Valley in search for something similar but was sorely disappointed that nothing came close to what Myeongdong has to offer."
Feeling it was high time for Malaysians to enjoy some authentic Korean street food, he flew back to South Korea in search of a five-star chef and researched further on Myeongdong's street food.
He wanted his first fast-casual Korean restaurant catering to the millennials whose spending habits and lifestyle are different from the baby boomers or Gen X to be differentiated from other Korean food that are in the market.
"Generally, Korean food is divided into two market segments: barbeque stuff and fried chicken. With no strong players for Korean street food in Malaysia, that is where our forte lies," adding that his other ammunition lies in the use of quality ingredients for his MyeongDong Topokki recipes.
After gathering the recipes and ingredients needed to create delectable Korean street food, Vincent returned home to start MyeongDong Topokki as a fast-casual dining concept with the tagline, Eat Once, Crave More.
The success of his first two outlets in Sunway Pyramid and 1 Utama Shopping Centre, which opened in 2014 and 2015, saw steady growth of its client base and positive response from the market. In 2016, he opened his third, fourth and fifth outlets. Franchising MyeongDong Topokki was the next natural step from then onwards for him.
On why he selected the food the beverage (F&B) of all industries, Vincent replied, "I saw its untapped potential. When you think of coffee, what comes to mind is the Starbucks brand and for burgers, it is McDonalds but for Korean street food, there is no dominant player. Thus, began my MyeongDong Topokki journey."
He also believes in pandering to the local market's needs where Malaysians enjoy spiciness in their food, which resulted in the Pedasss Chick-Yun Challenge at Paradigm Mall in August. Pedasss Chick-Yun Challenge is a yearly event by MyeongDong Topokki. In line its casual street food in a restaurant setting and to create an inviting appeal, Vincent said its dishes are garnished and high quality is maintained. For instance, our topokki are made using rice instead of flour. "At the same time, we also provide value meal sets, which cater to the local demand. Innovation is our company's core value and key to our survival and success."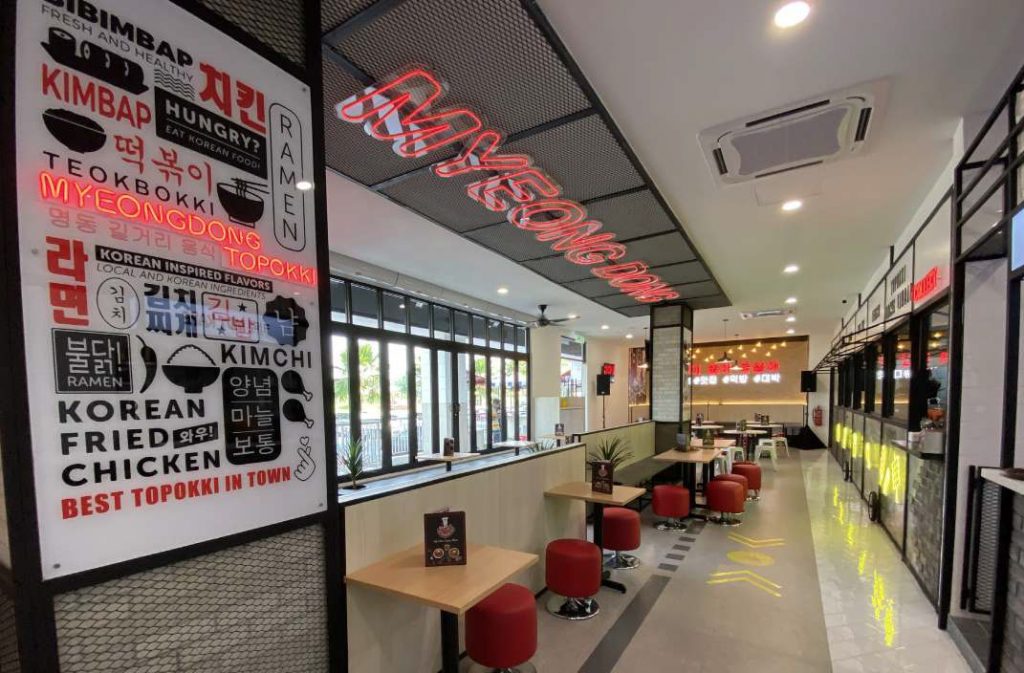 "When coming out with a new menu, we always look at global trends and remove the obsolete items in our previous menu. Merely doing market study is not the answer. You have to listen closely to the market to find out what is most suitable to push out and customers are always open to try new things." On the importance of branding for MyeongDong Topokki, he saw winning Asia Halal Brand Awards (AHBA) under the Best Fast Casual Korean Street Food Restaurant category as a leap forward. "It establishes us as the best halal fast-casual Korean food in the market. "With halal being an important aspect of life for the majority-Muslim population in Malaysia, we believe we can create confidence among our Muslim customers to enjoy the best Korean street food without any qualms."
A recent report valued the global halal food industry at US$1.6 trillion in 2018 and forecast it to reach US$2.9 trillion by 2024. "MyeongDong Topokki intends to enter into the fast-moving consumer goods industry to distribute halal Korean food into the market," disclosed Vincent, who is also on a expansion drive to expand his franchise business beyond Malaysian shores to other countries in Southeast Asia and the Middle East. He had explored other business avenues before venturing into F&B.
They included trading and oil palm but then Vincent realised these two industries are very mature and are controlled by the big boys. He also invested in real estate before but had moved out from the property market in 2013 and 2014 when he saw its prices started to slide. With the entrepreneur spirit burning within him, Vincent confessed he had felt restless during his banking days when he was handling the private wealth of his bank's crème de la crème customers. "I was exploring my options already at that time. Since most of them were successful entrepreneurs, a topic commonly discussed was how to solve the problems at hand. It was not about their company's profit and loss. That triggered the entrepreneur spirit in me as I enjoy finding solutions to problems."
On some of the challenges faced in his own entrepreneurship journey, Vincent cited funding as one of them during the early years. To overcome this, he would join forces with others in pull in more monetary and financial resources. At one stage, he was doing everything himself and did not even have time to enjoy a cup of coffee. Having lost his father at a tender age of 11, Vincent had been brought up to be very independent. He learnt the art of delegating tasks to others later when he turned entrepreneur. "Getting a strong team together, nurturing and giving them career growth was another challenge that I faced." With a staff force of about 300 employees including those in operations, he shared, "We have built up a strong team of talented individuals who are focused, passionate and specialised in their own fields to propel our business forward.
"Monthly, we imbue into them our company's direction and remind them that they are important as I believe a sense of ownership is vital to our company's success." On how he has got to be where he is today and whether there was any mentor behind him, Vincent responded, "No one specifically but I read voraciously. I can finish a book weekly, be it in finance,
literacy, business, properties, F&B or a novel.
That is where I gain the knowledge and information to thrive in this real and tough world. "As I mentioned earlier, entrepreneurship involves solving problems, and the keys to its success are perseverance and persistence. It is determined by the number of people the enterpreneur brings up along in his life's journey. "While a businessman's objective is to make money, an entrepreneur is one who builds a brand and a future for his people. He or she is constantly innovating. However, this does not always mean the most talented or knowledgeable individual will be successful. "The story of the tortoise and the hare is a good example. The hare was very confident in winning the race as it can run faster but lacks the perseverance and persistence of the tortoise, which finally won the race. To the start-ups, Vincent's tips for them are, Persistence, persistence and persistence; it is the key to push things forward. You are never too old to venture into business and despite the multiple failures, never give up!" – Vincent Lora