Success is a continuous journey for Dato' Michael Lim, Founder of VINSOON Group who worked his way up from being a salesman at a retail shop in Serdang, Selangor for three years before putting forward his first business idea into motion with Hypershoe.
Established in 1996, Hypershoe is considered as one of Malaysia's leading shoe retailers selling affordable yet high quality and sturdy footwear for both children and adults. Hypershoe chain stores are mostly located in shoplots and complexes, with its first store, Shoe Trading Sdn Bhd located on Jalan Ipoh, Kuala Lumpur.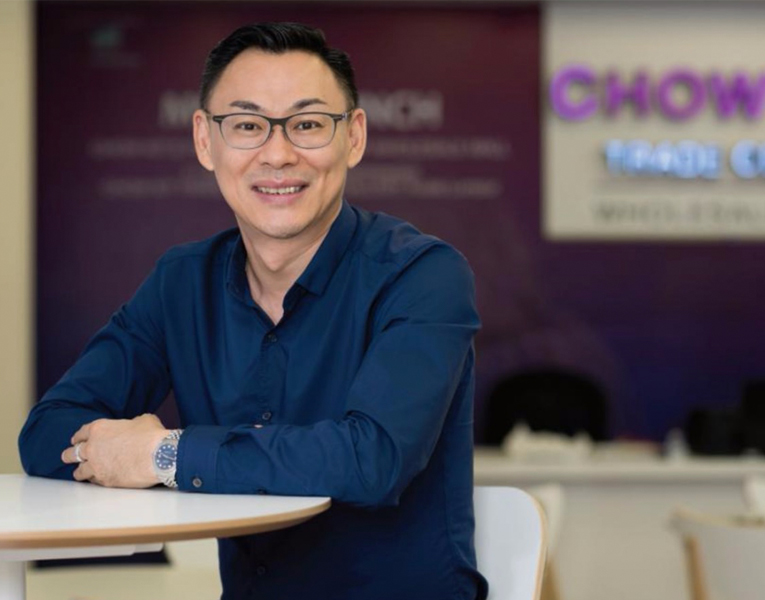 Armed with a strong vision and with a desire for success, it was Lim's initial dream to advance the Hypershoe brand into a hypermarket concept whereby customers can find comfortable shoes made from top-of-the-line materials with designs at an affordable price in one venue.
The shoe retailer believes that the right pair of shoes can transform your body language and attitude and uplift your feelings.
After a tenacious and gruelling 21 years of hard work, Hypershoe now spans an impressive total of 40 outlets across Klang Valley – an achievement borne from the persistence of Lim to achieve his goals.
Facing The Future with Courage
At 26, Lim was determined to excel in the challenging world of retailers.
"I had to prove myself at a young age, having grown up without any proper tertiary education. My father worked hard as a taxi driver to make ends meet in our family. I am grateful to him for bringing me up and for providing me with the basic necessities in life. His tenacity motivated me to become a better person until finally, I am able to give my family a better life," relates Lim on how his father inspired him to make a change for the better.
In 2006, having operated his Hypershoe business for 10 years, he then decided that it would be a wiser decision to invest in a shoplot to save on rental costs. Therefore in the following year, he built a semi-detached factory in Klang representing his first property development as he envisioned the rising potential of the property industry.
Not one to back away from opportunities, Lim seized the opportunity to enter the property development business several years ago. In 2013, he decided to build his second development named the Chow Kit Trade Centre (CKTC) in Chow Kit, Kuala Lumpur.
Rejuvenating Chow Kit
Commenting at the launch of CKTC at the Chow Kit Trade Centre Sales Gallery, Lim said developing CKTC provides significant value not only to Chow Kit but also to wholesalers and investors of CKTC. He emphasises the importance of nurturing Chow Kit to embrace the fast-paced financial and development moveme suptanclent that Kuala Lumpur is now experiencing to be on par with other fast-moving cities around the world.
"For many years, Chow Kit served as a great area for the wholesale community including for leisure activities due to its great location and varied wholesale products that can be found there ranging from watches, custom jewelry, fashionable accessories to household and kitchenware among others," he says.
According to him, CKTC is set to be Chow Kit's first major one-stop wholesale mall for cosmetic products, kitchenware and traditional Malay herbs. Incidentally, the new 10-storey icon in the heart of Kuala Lumpur's Central Business District (CBD) is touted to be one-of-its-kind in the country.
Lim says CKTC will feature a settlement boasting the area's rich heritage of being a well-known wholesale area for 50 years. CKTC is a freehold development undertaken by New Paradise Development under the umbrella of VINSOON Group.
A thriving Malaysian-grown company, VINSOON Group has grown steadily since its inception in 1996, spearheading the way for business development while enhancing the lives of people around Malaysia. Its future aim is to penetrate Asia as well.
The group's longstanding reputation and experience in this industry has enabled it to deliver sustainable solutions and substantial results. This facilitates it to move forward in the goal of building a brand that represents global standards in product quality and service delivery.
New Twist to Old Trade
Boosting a contemporary and attractive building design, the upcoming wholesale development will feature 254 lots with built-up areas ranging from 52 sq ft to 181 sq ft. The pricing starts from RM101, 400 onwards. In addition, there is also a 4.5 metre high additional storage area above each shop. Other services provided within the one-stop wholesale centre include 24 hours security, Close Circuit Television (CCTV) monitoring, custom built loading and unloading facilities.
According to Lim, CKTC will breathe new life into the historic town of Chow Kit known for its rows of long-established retail outlets specialising in wholesale goods. He adds that it will also elevate the wholesale business to a different level by allowing wholesalers to experience their own unique and exclusive wholesale space at the distinctive one-stop wholesale centre.
"Following the strong demand for wholesale retailer space, we received an overwhelming response for this development when the project was open to sellers in February 2017," he says.
With a net floor area spanning 34,650 sq ft, 60% of the development has been taken up by business investors and wholesalers. They will be bringing in a range of products and stocks focusing on cosmetic products, kitchenware and traditional Malay herbs from China, Thailand, Korea and Indonesia," adds Lim.
The group foresees the development that comes with a Gross Development Value (GDV) of RM160 million will be fully taken up by December 2017 and completed by end of 2019.
The integrated CKTC development comprising new Government offices and Malaysia's first Malay heritage food court is well-poised to becoming the next big development and a major one-stop wholesaler for both investment and leisure opportunities in Kuala Lumpur.
It has already secured MK Curtain as one of the leading curtain retailers in Malaysia which will fully occupy the whole Level 7 of CKTC while Hypershoe will have its own wholesale and factory outlet on Level 6.
Surviving The Industry
"Being a business Entrepreneur is actually very tough because it basically involves overcoming different challenges. In order to become a successful person, you will need to be friendly and humble to everyone, willing to learn from your mistakes and accept the challenges that come along," Lim explains.
"The biggest challenge that I faced was when Hypershoe expanded rapidly back in 2003. During that challenging time, the company did not have enough cash flow resulting in the organisation being unable to pay salary to our employees, rental fees and even the money owed to our suppliers," reflects Lim.
"I felt like giving up at that time but at the end of the day, I persevered by closing down more than 70 Hypershoe retail outlets in Johor Bahru, Penang and Kuantan and only maintaining the remaining retail outlet in Klang Valley," says Lim.
Today, the group has grown and successfully expanded its operations combining the wealth of experience and expertise gained from their retail and property development project.
"The majority of our funding comes from our investments. We will usually invest in an area with good potential and then, we will refinance the property and use the returns to invest and expand our business," says Lim.
The group feels that it is the right timing to invest in Chow Kit as Kuala Lumpur is the central region of Malaysia that will receive enormous benefit from China's One Belt, One Road initiative. This was due to the link especially between China and Central Asia, China and Europe, China and Southeast Asia as well as between China and East Africa.
"Following this, we realised the full potential that Chow Kit can give to businesses and tourists alike. Yet, we still want to retain the history of Chow Kit for what it has been known for these past few decades. And, this is what will attract both business and tourist to venture with CKTC," he explains.
His prediction of the market outlook in the next 10 years is there will be good opportunities for foreign investments in Malaysia due to its central location in Asia which will definitely give a boost to the development of various sectors and industries, hence generating greater growth through good infrastructure as the main catalyst.
Future Aspirations
Lim believes that CKTC can fetch a rental yield of about 6% and is confident the units can command prices of between RM40 psf and 60 psf.
He shares that most of the purchasers of CKTC are his friends who were influenced by the rich, cultural history of Chow Kit. Several purchasers have also referred the project to their other friends.
Chow Kit's location is also considered a convenient hub for nearby surrounding wholesale markets.
He acknowledges that CKTC has also received a lot of coverage from media companies and shares that in the coming months, he intends to promote his products through online social media platforms and invite purchasers to upcoming events held by the group by sharing the news with them.
Banking On E-Commerce
The rise of the internet has led to the rise of e-commerce with more people exchanging goods and services all over the world via the Internet. From the first online store selling fashion, it is worth noting that many start-ups are increasingly becoming more involved with and centered on e-commerce. This has led to various traditional retailers setting up e-commerce websites to regain market share.
Lim shares that in order not to be left out in today's fast-paced world that we are living in, one needs to be fast and efficient in grabbing opportunities available.
"Based on the rapid growth of technology, the opportunity to start-up your own business is easier, faster and more convenient nowadays. Hence, the goal is to come up with better products – be it in property development or retail to stay relevant in this competitive market by capitalising the cost-effectiveness of obtaining products via wholesale," he explains.
He elaborates that establishing a direct link to manufacturers requires high volume and capital but wholesale traders are able to meet the logistic requirements of small online businesses.
In closing, the determined go-getter shares his formula for being productive stating, "I fully utilise my time by setting up full-day appointments with my staff, suppliers, consultants and contractors from Monday to Saturday. The only time off I have is on Sunday which is my family day," he shares.
---
Catalyst for Chow Kit

Chow Kit Trade Centre (CKTC) is envisioned to offer an exceptional contemporary wholesale shopping experience in the heart of Kuala Lumpur's eminent wholesale area with its double-volume ceiling complementing its generous showroom and storage areas.
The wholesale mall is also located in a mature business district, adjacent to major international hotels; Grand Seasons Hotel, Seri Pacific Hotel and Concorde Hotel as well as other surrounding active commercial developments.
Conveniently located nearby Chow Kit Monorail, Kampung Baru Light Rail Transit (LRT), Putra World Trade Centre (PWTC) LRT, Pekeliling Bas Terminal and Pudu Sentral Urban Transformation Centre (UTC), CKTC is easily accessible to various locations.
Nearby public transport within
Chow Kit Monorail within 400 metres
Kampung Baru LRT within 800 metres
PWTC LRT within 900 metres
Pekeliling Bus Terminal within 950 metres
Pudu Sentral UTC within 2.3km
The excellent connectivity plus its prime location will contribute towards making CKTC as one of the most promising business venues within the district of Kuala Lumpur.
Kampung Baru, which is a Malay reserved area is located about 200 metres to the east of CKTC, characterised by a large number of Malay houses, restaurants, mosque and many more. Notable landmarks within the Kampung Baru area are Plaza RAH, Menara NAZA and NAZA World Auto showroom.
Pasar Raja Bot is the largest "wet market" in Kuala Lumpur selling fruits, vegetables, meats, seafood etc. It is located at the northern end of Jalan Tunku Abdul Rahman in Kuala Lumpur which is just three minutes walking distance from CKTC. The market is crowded with locals and tourists most of the time and is set to receive a RM200 million facelift to modernise and transform it into an iconic landmark. Construction is underway to build 8.5 storeys of multi-level parking lots.
Jalan Raja Alang which is a mere four minutes walking distance from CKTC is a famous street with wholesalers retailing Malay traditional herbs, cosmetic products, kitchenware and other household items.
Future Development
Business owners will also have the option of owning premium Government office suites at Chow Kit in the next two years. Investment-wise, it is widely acknowledged that commercial developments within the heart of Kuala Lumpur will definitely enjoy good capital appreciation and great rental investments.
CKTC will also be strategically located next to Majlis Agama Islam Wilayah Persekutuan (MAIWP), an establishment overseeing the affairs of Islam in the Federal Territories of Kuala Lumpur. The 30-storey building comprising five different government departments comes with eight levels of parking lots to provide ample parking space and the development is targeted to be completed by August, 31 2019.