Facebook: Chatime Malaysia
Twitter: @chatimemy
Instagram: @bryan_chatime
Website: http://www.chatime.com.my/main/index.php
Every year, in the month of June, you would find children expressing how great their fathers are through Facebook or Instagram posts. While Kylie and Haylie Loo may not have Facebook accounts, we are sure that they know how amazing their young, resilient, 'dad-entrepreneur', Bryan Loo, is.
Loo, 31, first showed his entrepreneur skills at the tender age of seven where he would create comic books and rent them out at 50 sen. His experience growing up with a family selling air-conditioner units also exposed him to good customer service.
Today, Loo is the CEO of Loob Holding Sdn. Bhd – the company that brought Chatime, among many others Food and Beverage (F&B) outlets, into Malaysia.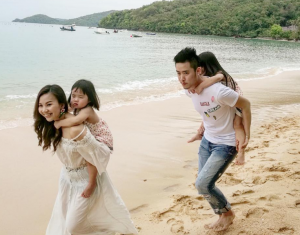 *Image from Instagram
Before venturing into entrepreneurism, he worked as a salesman for a biotech company for two years. "While working with the biotech company, I gained a lot of self-confidence, I polished my socialising skills set and that was where I truly learnt how to engage people. It was unpleasant only because it was not my passion and I had always wanted to open up by own business," said Loo adding that he decided to work for the Biotech company to gain relevant experience in his field of studies.
"I continued exploring for over two years and finally left the job when I was 24. I called my parents and said I would be lost if continued to walk this path. I somehow knew it was this (at that time) moment, that I have to pursue by passion in doing by own business," Loo told Entrepreneur Insight.
*Image by Chatime
After quitting his job, Loo attended different trade shows to see what businesses he could venture into and realised that the F&B industry is the only industry that withstands market crises and test of time. Eventually, he found his 'cup of tea'. Loo's vision was to bring the culture of drinking bubble tea into Malaysia and cultivate a tea drinking culture among the Malaysian market.
"At that time, Malaysia had a coffee culture but it was void of modern tea culture. There was no one brand in Malaysia that represented the grab & go modern tea drinking culture and that was how Chatime came into the picture," said Loo.
His enthusiasm for the business was met with rejection as most of the Taiwanese companies were not keen on entering the South-East Asian market. Through a stroke of luck, Loo was able to find a company that was daring enough to expand globally. Loo came back to Malaysia again with the concept of Chatime, and the rest was history.
"TodaY, Malaysia continues to remain as a key market to the mother company despite them having expanded to 28 other countries. We contribute about 48% to their total global revenue to the proprietor company," said Loo.
*Image by Entrepreneur Insight
Since its first opening in September 2010, Chatime has taken a steep leap forward. Currently, they have more than a 160 Chatime outlets with over 880 staff, nationwide.
"The journey was difficult but I was convinced by the product and the processes that produced the product. In the beginning, I was being the cashier, I was trying to educate people, change their mind set about bubble tea drinking. There were so many rejection, criticisms but it didn't break my enthusiasm. Ultimately, we managed to pull through by just word of mouth," explained Loo.
Winner of the Best Master Franchiser Award in 2012 and the Ernst & Young Emerging Entrepreneur of the Year Award in 2013, Loo does not let success get in the way of his relationships. He told MalaysianTatler.com that he owes his success to the nurturing relationships with his family and friends ever since his childhood. He expressed that the strong support he gets from his family would allow him to take the business to the next level.
True entrepreneurism, said Loo, was all about resilience, adding that one should take failures as learning curves.
*Text by Chris Tan