Quill Mall, Kuala Lumpur 25th February 2020 On this day, the Malaysia Retail Chain Association is proud to announce once again the Largest Retail and Franchise Exhibition that is recorded in the Malaysia Book of Records which is the Malaysia International Retail & Franchise Exhibition or also known as MIRF.
"Yes on behalf of the organizing committee, it gives me great pleasure in welcoming you to the Press Conference for the 5th Malaysia International Retail & Franchise Exhibition 2020 (MIRF), held in Kuala Lumpur Convention Centre from 16th to 18th July" says the Organizing Chairman for the 3rd year in running Mr Raymond Woo.
This year again, we aim to cater to more market demands. The Retail market is getting more and more interesting as new brands are emerging and there are strong indications to want to export Malaysian Franchise Brands overseas. Raymond added, "So far we still see positive participations from new brands especially from new F&B Concepts and we are still getting lots of new enquiries coming in"
This year, we will have a total of 568 booth and kiosk taking across from Hall 1 to 4 in KLCC. This would mean an incremental growth of 100+ booths & kiosk from 2019. Still using the same theme we had last year "Franchise Forward", MIRF is confident of the growth due to support and collaborations from various retail sectors. We of course have better partnerships with our Malaysia Bumiputra Designers Association led by Bon Zainal and also Rasta Rashid. We also have more International Participations from overseas with emerging parties from Japan and Turkey. Needless to say, we are encouraged to see more startups and birth of entrepreneurs jumping into the scene as well.
Amongst other new brands that have already signed up are Ayamas, O'Briens, Hermu International, Gong Cha, Kong Fo Cha, Lavender and JVV F&B. Of course we have secured TM One as our supportive Bronze Sponsor. We also have gotten support from PNS and Matrade for our Exhibition. The 100 Hatchery booth will once again be exciting and will see new players, parties and collaboration partners in this corner.
All of us know that these are trying times for the Malaysian market and also itssurrounding markets. With a very controlled epidemic corona virus going on, certainly all of us wish that we know what and when the end will be. Certainly we have to stay positive and move forward to continue to provide opportunities in the market for Retail growth. And once again, MIRF 2020 will be counted upon to stage yet another great show.
MIRF 2020 continues to soar by providing new add ons and facility like Corporate Box and Business Matching areas for our Exhibitors. In addition to that, MIRF as usual will have a night for Exhibitors to foster friendships and build relationships. Our message is clear, the Malaysia International Retail and Franchise Exhibition is the proven formula to drive the Retail and Franchise sector. We want to tell Business Owners to use this platform to explore not only franchising but partnerships, licensing and joint ventures. It is the place for Business Collaborations, Networking and endless opportunities.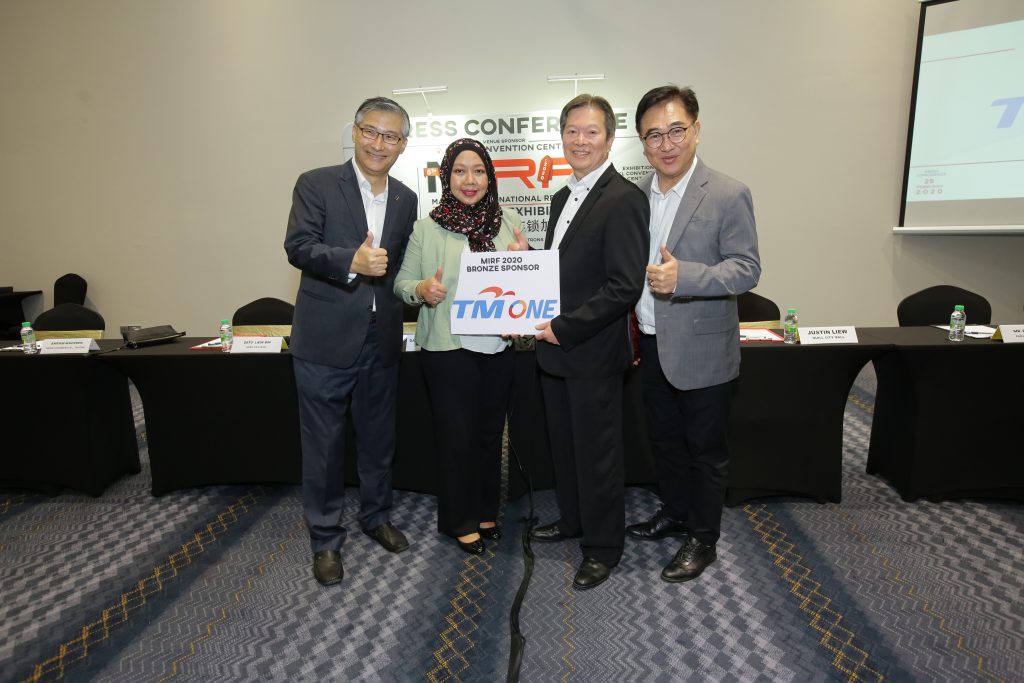 The MIRF 2020 Press Conference is held in Quill Mall, Kuala Lumpur as a Supporting Partner to host the Press Conference for MIRF as it is also a member of MRCA. Dato Dr Jennifer Low, the Executive Director of Quill Group and also one of the President Advisors says,"The Quill Group is always willing to support the Retail Industry. As for Quill Mall, its direction is always to stay relevant to the retailers and to put retailer's interest first."
During this Press Conference, the first 30 exhibitors that registered early for the Exhibition will enjoy Business Matching sessions. The Exhibitors will be connected to parties that has keen potential with the hope of converting into positive transactions. These are part of the new initiatives that the MIRF 2020 have added to its platform to assist their Exhibitors during these times.
For more enquiries of this Business Matching, please do call MRCA Assistant General Manager Mr Simon Wong 016-3252308.
For Booth Registration and Enquiries please contact MIRF Event Coordinator Miss Samantha Wong 018-2302882
See you in MIRF 2020 !