It's not possible for humans to be working for 24/7 and that applies to every entrepreneur and employees who work equally hard for the betterment of the organisation.
It would be nice to get away from the hustle bustle of the concrete jungle, and experience some tranquility once in a while. But with a big team of employees and staffs, it's hard to find a comfortable retreat that can fit more than 15 members.
Fortunately, with the presence of AirBnB, it's easier to find venues at a reasonable price to pamper your deserving team. Here are a few choices you would want to check out:
Templer Park Rainforest Retreat
Image by Templer Park Rainforest Retreat
Image by TimeOut
Bathrooms: 5
Bedrooms: 4
Beds: 12
Price per night: RM700
For a big house that accommodates more than 16 pax and only for RM700, you will find it hard to get a better offer than this.
Located only 30 minutes away from Kuala Lumpur, this retreat offers you a 360° view of the Kanching Rainforest Reserve. And with such great view, there needs to be viewing decks which overlooks the mountains.
The stay comes with various facilities including a lake, golf course, an infinity pool that comes with jet spa for swimming and also a splash pool.
If you like BBQ, even better! Charcoal with BBQ and other kitchen tools are provided for your needs. The retreat is also in close proximity to Tesco which is a 5-minute away as well as other eating spots.
The retreat is located in a gated and guarded community with private access that guarantees safety and security. There are ample parking spaces for you and your employees.
Rumah Kebun @ Hulu Langat, Selangor, Malaysia
Images by RumahKebun Facebook
Bathrooms: 3
Bedrooms: 3
Beds: 7
Price per night: RM1,502
Referring itself as an ideal getaway, Ruman Kebun is surrounded by lush hills and greenery.
Just 30 minutes' drive away from Kuala Lumpur, The Rumah Kebun does not only suit a big team but big families too! And you're going to love its facilities. It actually has a natural and fresh spring pool as well a stream that goes by the name of Semungkis. There is also a bonfire spot, an open kitchen and a hidden outdoor shower and get this! A tree house!
Holiday Villa @ Kuala Lumpur, Wilayah Persekutuan Kuala Lumpur, Malaysia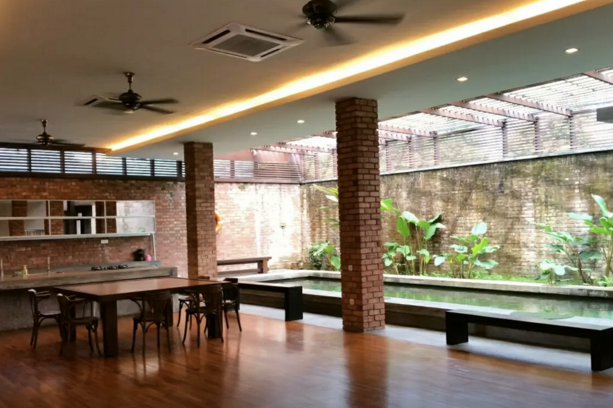 Image by Travelog
Image by Venuescape
Bathrooms: 3
Bedrooms: 3
Beds: 4
Price per night: RM2,001
Strategically located in KL and about 15 minutes away from KLCC, this retreat offers you the tranquillity within the busy city! You can still experience peace and serenity without even having to leave the city.
It has spacious hall that can fit 40 to 70 pax for private events.
You can even organise activities for your teams such such as yoga or pilates getaway, meditation, private gathering and exclusive events in this retreat.
The Woods also offers services such as limousine pick-ups and also setting up and catering for events.
by Chris Tan